Cultural differences: Hanoi people's daily life
Day update: 13/02/2023
---
People travelling to other countries are most certainly familiar with the term "culture shock", which explains the feeling of disorientation towards an unaccustomed culture, way of life or set of attitudes.
In this post, Property Plus will focus on the daily life of the local in Hanoi, particularly and in Vietnam in general. Of course, there are a few specialties among different regions in Vietnam, but on the urban side, it holds some similarities.
Almost everyone from other countries moving to Vietnam for travelling or residing is blown away by one of the most critical, unavoidable and terrifying issues regarding daily life in Vietnam, transportation.
1. Traffic in Hanoi
With the total surface reaches up to 3,328 square kilometres (approximately 1,292 square miles), Hanoi – the capital, has become the second largest city in Vietnam, only behind Ho Chi Minh City, and is the perfect place for people who loves the idea of "something new, something old" comes together, which describes the nostalgic atmosphere of Hanoi.
However, one of the inevitable is the population, Hanoi citizens number up to 8 million people, and it's still growing day by day. The population density is estimated at 2,300 people for every square kilometre, an impressive number for any city, but a squeeze tight for the local, especially those who live around the city centre. The number is constantly thriving because people from rural areas are in need of new opportunities and the capital of Vietnam definitely outweighs their local surroundings.
Because of the density in population, Hanoi people often pack themselves with transportation tips which can help them move around the city most conveniently and in shortest time possible. After research and conducting surveys from local people, Property Plus will provide you with some small notice in order for safe, comfortable rides in the city.
#Tip.1: Avoid being on the streets during rush hour:
The rush hour is defined as the timeframes when a large number of people is on their ways to accomplish according to plans or certain purposes, usually from home to work or school and back, ways in and out of the city, etc. To Vietnamese people, morning rush hour would often start from 7.30 to 8.30 am, and sooths itself down at around 9 am. The afternoon rush hour would start from 4.30 to 7 pm. The afternoon frame usually last longer due to the fact that it's not only the near the end of business hour, but also when students have their classes dismissed, people are preparing for a night out at the city centre, and many more. So unless you're an office employee with the standard working hour, avoid setting vehicles to work, to school or to anywhere in the city during this timeframe. According to feedbacks from local people, it is possible that you will be stuck in the traffic jam for hours before being able to set foot at home.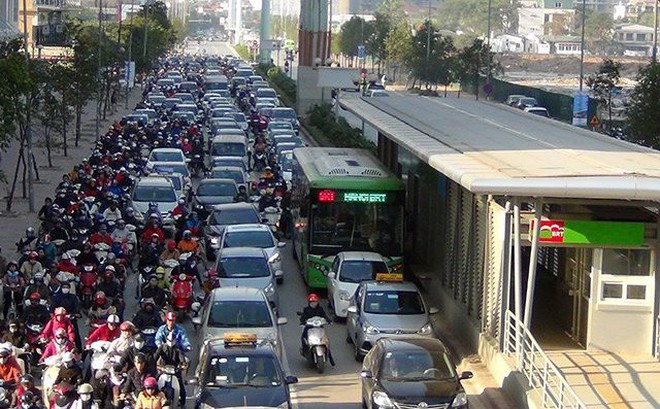 #Tip.2: Avoid belts and freeways leading out of the city:
It's not necessary to reach a certain destination having to join the city belts. City belts are considered more dangerous for city movers since this is usually the chosen routine for big trucks and containers. Well-constructed and wide enough for a large amount of vehicles, yet city belts are packed with huge vehicles, making transportation on this kind of roads a lot harder and inconvenient.
There are current 4 main city belts in Hanoi, described in the map below:
#Tip.3: Start planning your routines
It is highly advisable for city movers to plan ahead of their trips even it's only around the city. By preparing the routine, it is easier to decide which vehicle you should be travelling with, depends on the timeframe and the status of the streets included. For example, if your request is to travel a total distance of 6 kilometres and the time is 2 pm in the afternoon, you can choose to travel by car and choose a more car-convenient routine because it's not rush hour. Or, you can choose to travel by scooters or motorbikes which help you reach the destination faster and easier to park your vehicles. Parking lots for cars are available but only at a few spots in the city, this is a huge disadvantage for car lovers since there may not be a parking lot where you're going to. However, considering parking lot is also a must-do for city movers before setting off.
2. Recreational activities:
It varies among several age groups when it comes to recreational activities and night-out plans. It is more likely for a family to "skip town" and look for a resort during weekends for a short break than teenagers around their mid-20s. This particular section gives you the overview on how local people of Vietnam would like to spend their free time and weekends, which may come in handy as a hint for your own relaxation plans.
If you ask a Vietnamese person living in Hanoi for recommendations for a night out, there are a few common answers regardless of the gender or age group. There are some specific regions in the city which are more visited by the people for relaxation purposes.
#1: The Old Quarter
Located near Hoan Kiem Lake in Hoan Kiem District, the Old Quarter is best known for its charming colonial architecture. From ancient streets to Buddhist temples and pagodas, everything represents the heart and soul and Hanoi. Visitors are often stunned by the nostalgic beauty of the ancient streets, which are named after their original businesses dating back about 1000 years. As commercialization took place, the original specialties are now replaced with more modern-day commodities and services, which makes the area become the major commercial district of Hanoi.
People often go to the Old Quarter to blend themselves in the crowd, listen to some music in a café, drink some beers on Ta Hien Street, walk around the streets where the city never sleeps. Foreigners travelling to Hanoi often choose the Old Quarter to stay simply because you can enjoy everything Hanoi has to offer in this area, the food, the people, the lifestyle, the atmosphere with such a reasonable price!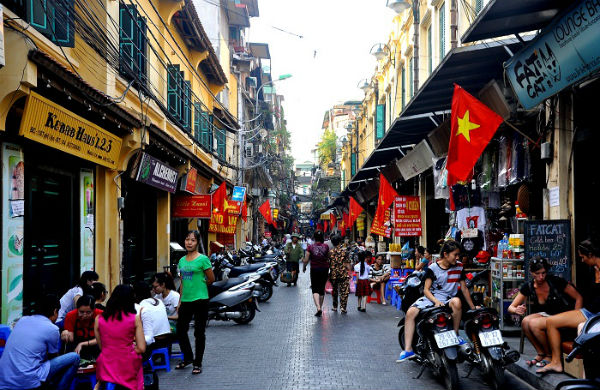 #2: West Lake
If you're not looking for some busy streets and crowds of people, West Lake is the perfect choice for you. The perimeter of West Lake is approximately 16 kilometres, which makes it the biggest lake in Hanoi. Westerners often find apartments and houses on the side of West Lake because of the view, the quiet yet fascinating atmosphere and the community. Besides, a daily walk on the side of the lake in the morning or late afternoon makes great exercise plans. There are numerous café shops and restaurants for you to choose from around West Lake with spectacular view. Or you can simply choose a blank spot and sit on the sidewalk and enjoy the beauty and the wind of West Lake, which are highly appreciated by the local people.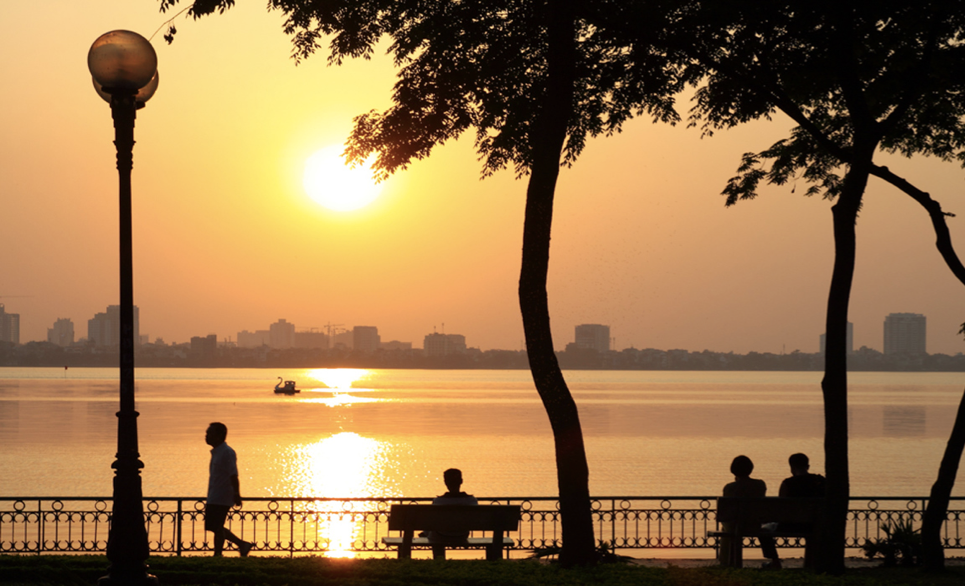 #3: Shopping malls and entertainment zones
Ever since industrialization and everything combines into one, shopping malls are no exceptions when they often include movie theatres, shopping zones and recreational zones and food courts. Shopping malls are often visited by the local people since they satisfy many of the purposes at one location. You can either spend your time going shopping with your friends or your family, or try out a new flavour of pizza in the food court, or head for a newly released movie in the movie theatre, or send your children to arcades. Around the city of Hanoi you can find several shopping malls such as:
* Vincom Mega Mall: Royal City, Ba Trieu, Pham Ngoc Thach, Nguyen Chi Thanh, Times City,…
* MIPEC tower, Lotte Center, The Garden,…